Damn that was crazy



I know how that feels, not good


What a night of basketball games college and pro, although I didn't watch any NBA just saw that clip of J Rich hitting the GW 3 for the Warriors. Was stuck at work for the first two games and since LSU-Duke was on locally I watched the Memphis-Bradley game on MMOD. Memphis looked good, better than I thought and it will be fun to watch the rematch between Memphis and UCLA which Memphis won earlier this year at MSG. I got off work near the end of the LSU-Duke game and luckily it was on the radio and it was great listening to Duke lose, make it a double bonus since I bet on LSU and the +250 ML they offered. Tyrus Thomas was a monster and came up huge with his breaking of the press and jam as well as Big Baby's offensive rebounds at the end that allowed LSU to get some extra breathing room at the end. It will be a hell of a matchup between LSU and Texas.

Now onto the two games that I did watch first the Texas-West Virginia matchup. Texas controlled the game early and with the 12 point lead at halftime I thought would cruise into the Elite Eight. But Pittsnogle, Gansey and co. were not ready to give up that easily as the Mountaineers made a great comeback to take the lead late in the game. The ending sequence was one of, if not the best end to a game I have ever seen. Pittsnogle hitting the 3 to tie then Paulino hitting the 3 to win was amazing. It what looks like a bowl game and not an Elite Eight matchup the Bayou Bengals will take on the Longhorns tomorrow, definitely the game I'm looking forward to most tomorrow.

The last game of the night brought another great ending as UCLA scored the last 11 points in the game to win by 2 after Gonzaga had control for the entire game up until the end. UCLA started off terribly, by far the worst half I have seen them play the entire season. In the second half you knew the run was coming by the Bruins but they never could seem to get over the hump. They would cut the lead from 13 to 6 until Morrison's 4 point play which pushed it back to 10, anytime the Bruins cut the lead down Gonzaga took control back and it just didn't seem like UCLA was going to get it done, especially with Afflalo in foul trouble. But in the end they pulled it off as the Bruins got all the stops they needed and scored when they needed to. The only problem I had was when Collison was fouled and the ref called it on the floor when it was clearly an And 1 situation. Collison did a great job of penetrating when Farmar refused to do so and just kept passing around the zone. No one else tried to penetrate and create something or at least drive and kick out to the open shooter. The Bruins cannot afford to do that tomorrow against a Memphis team that will be ready to go.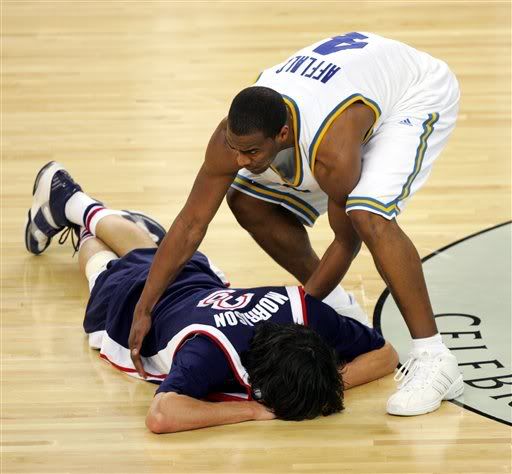 I just stumbled upon this via Bruins Nation, where they've got this picture up and it just adds to what I wanted to discuss today about Adam Morrison and now Arron Afflalo. Watching the end of that game and seeing Morrison I felt for him considering I know how that feels. Granted I never played at the collegiate level but I remember my last high school football game and all the emotions I went through when we lost in the playoffs and since I take my sports that seriously I feel the same way when Michigan loses games. I definitely liked Adam Morrison before considering all the adversity he's gone through with diabetes but watching him last night I became an even bigger fan knowing that he took the loss that hard because that's the way I would take a loss like that. Part of the reason why I can't stand bandwagon fans since they don't go through the same shit that real fans do as they live and die with the team. I bet there's plenty of people out here that pull that bullshit excuse that like USC football but like UCLA basketball. That's a crock of shit and I hate it, I remember hearing about people like that in Michigan who liked Michigan football and Michigan State basketball, it's just retarded.
Anyways back to my other point which was on Arron Afflalo. Since he showed up at UCLA, I knew he was a player and he definitely became my favorite player on the Bruin squad. He's a great player and can just take over a game, like his first half against Michigan earlier this year. Seeing his actions afterwards I have even that much more respect for him as a person as well. A very classy move on his part to go help up Morrison and big ups to him.
Now we'll head to my picks for tonight's games for the other half of the Sweet 16, I was a perfect 4-0 yesterday on them, why the hell don't I get a parlay in at those times?
Villanova-Boston College - A lot of people are going with the upset here and so am I. I've had BC in the Final Four in my brackets and I'm not going to change on that, I think the Eagles size will be too much for the Wildcats and they will get the W. BC is familiar with Nova since they were both members of the Big East and last year they split the season series 1-1 so BC will be familiar with their players and their style of play.
Georgetown-Florida - The Gators are rolling as they have won 7 straight including their first two tourney games by 24 and 22 points. They are peaking at the right time and looking like they could easily win this region and make it to the Final Four. In their way stands the Georgetown Hoyas who pulled out a close 5 point win over Northern Iowa in the first round then dominated the #2 seed Ohio State by 18 points in the 2nd round to make it to the Sweet 16. They have a legitimate big man in 7'2" C Roy Hibbert and cause a matchup problem against Joakim Noah who has been playing great basketball as of late but is giving up 3 inches and almost 60 pounds to Hibbert. Florida is playing great lately but I just have this feeling that Georgetown will continue their run and move to the Elite Eight.
Connecticut - Washington - the matchup of the Huskies will occur in Washington D.C. tonight and the Huskies will be going down, the Washington Huskies that is. I think UConn is too good not to make it to the Final 4. They are starting to get it together after the horrible first 30 minutes they played against Albany and I believe they are now refocused and ready to go knowing that if they're not on their game anyone can beat them, which it seems like they forgot during that game. As long as UConn can hold Brandon Roy somewhat in check, UConn should be moving on to Sunday.
Witchita State - George Mason - this is a tough one for me to call considering the only times I've seen these two teams were last weekend. No one would have bet any amount that either one of these teams would make the Elite Eight but one of the mid-majors will march on after this game. George Mason did win an earlier matchup this year at Witchita State so it does have that going for them as well as the fact that they defeated two big name schools in Michigan State and North Carolina to get here. The Shockers on the other hand beat Seton Hall and an extremely overrated Tennessee team to get here. As much as I hate to pick against the Shockers I'm doing it and going with George Mason to move on to the Elite Eight.