Jackie Robinson Day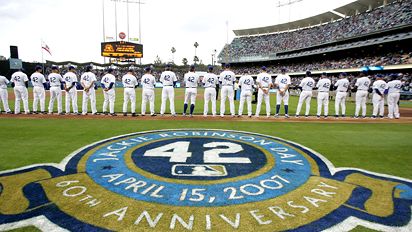 Yesterday was the 60th anniversary of Jackie Robinson breaking the color barrier in baseball. It was a great tribute for a great man before the Dodgers game against the Padres last night and the entire Dodger team wore #42 to honor him. Many other individuals, and in some cases teams wore 42 as well to pay tribute to the man that did so much not only for the game of baseball but for race relations in America.
Props must go out to Ken Griffey Jr. who came up with the idea and approached the MLB to wear 42
.
Unlike the NBA, who denied Jerry Stackhouse's request to put Robinson on his jersey
, he already wears #42, the MLB allowed the entire league the option to wear 42 and many took advantage of it. Bruins Nation has a great post entitled
Honoring Jackie
which also has links to a bunch of other articles about paying tribute to Jackie.
The Dodgers were able to get the victory last night 9-3 over the Padres
, and pitcher Chris Young who wrote a dissertation on Robinson for his thesis at Princeton. As a Dodgers fan it means even more to see these tributes to a great man. A few years ago when I was going to purchase a Dodgers jersey I knew which one I wanted, a Jackie Robinson. They were difficult to find at the time but fortunately a Cooperstown collection came out with 42 and I jumped on it immediately. To hear and read about the things he had to endure to make it with the Dodgers I feel honored to be able to pay tribute to him by wearing his jersey.
Labels: Dodgers